Application:
They are widely used in coal mining, port, power plant, metallurgy and construction industry, etc.
Construction: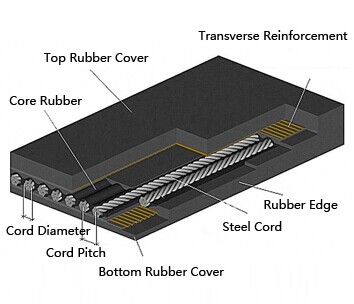 Steel Cord Conveyor Belt consists of:
•Steel cords: steel cords at certain arrangement which become the main tension holder of belt. Special high carbon content steel strand cords with special heat treatment, which makes the cord highly resistant to breakage and repeated dynamic stresses as well as highly flexible. Warp cords are galvanized and fully embedded in rubber. Twist cord alternating right and left hand to ensure the belt go straightly.
•Rubber Cover: top rubber cover+ bottom rubber cover, protect the carcass from abrasion, impact, water and other injurious influence
•Core rubber: special rubber layer with good steel cord adhesion properties
•Ripstop or transverse reinforcement: one or two steel breaker(No need for normal usage)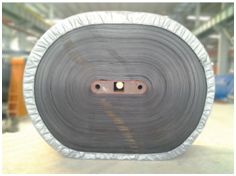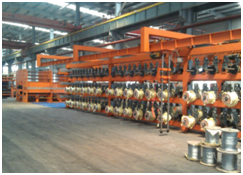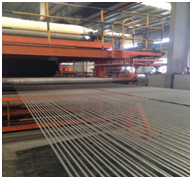 Advantage:
•High tensile strength, steel cord conveyor belt is suitable for transferring materials with long distance, high intensity and large load.
•Small elongation in use, a very short take-up stroke distance needed.
•High adhesion between rubber and steel cord, the steel cord are coated with zinc on the surface, highly adhered to the special core rubber to resistant to heavy impact.
•Good troughability, as the belt body has no transverse carcass, it is easy to form a deep trough to load more materials without leak.
•Small diameter of driving pulley: the belt body has a layer of longitudinally arranged steel cords as its carcass to resistant to flex fatigue. Therefore, driving pulley with smaller diameter can be used to reduce energy consumption.
•Even tension of steel cords: thanks to our advanced techniques in manufacturing, the steel cords are very evenly arranged with the same tension, so the belts are well balanced in running and difficult to run away.
Cord Pull-out Force-Delivered State & After Thermal Treatment:

Recommended Min. Pulley Diameter:

Cover Rubber Property and Grades:

Standard and Main Technical Data:

Technical Data According to DIN22131: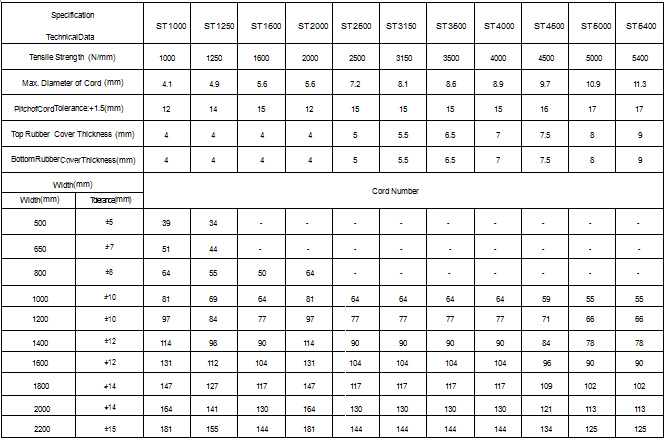 Technical Data According to GB: